Discover
Harwoods Group appreciated the importance of staff retention and making a good first impression. We were delighted when the high-end car dealership asked us to design their new starter materials. They needed to look professional and slick, whilst appealing to a broad range of employees and conveying the friendly, family feel on the business.
Design
We learnt quite quickly that, like many businesses in this industry, Harwoods historically had a high turnover of staff. Together, we created a suite of materials, including a Welcome Pack, a Log Book with easy 'Pit stops' along the way to track their Induction Journey for the first 6 months and a Support Guide for both the Line Manager and Buddies to help them mentor and monitor their progress. We used a mixture of aspirational images as well as photography of employees to make the materials feel achievable.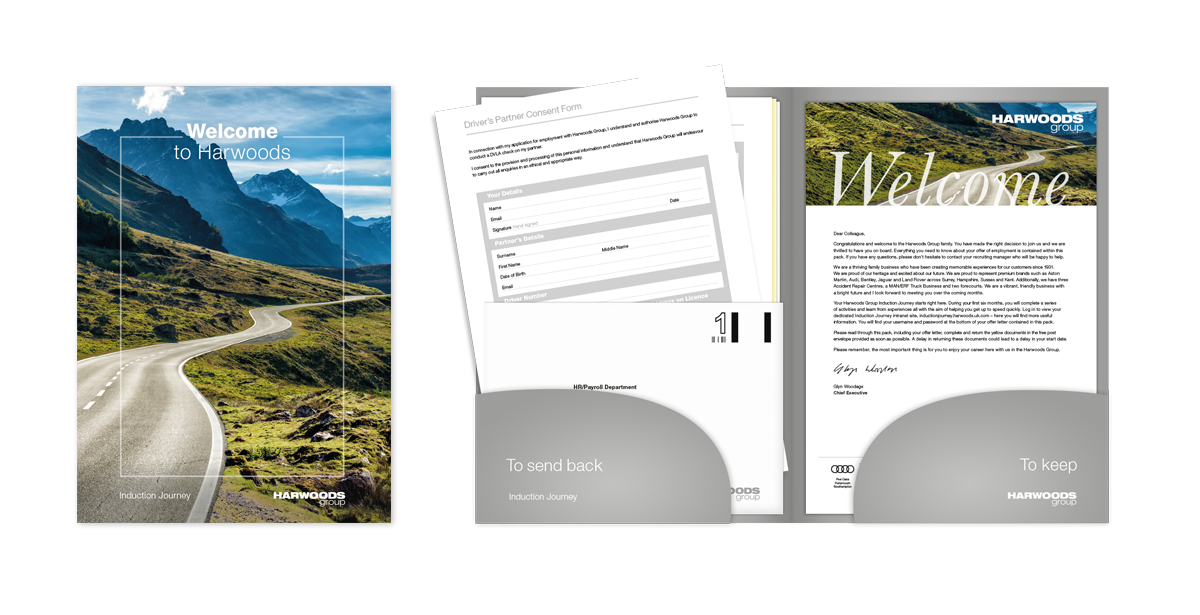 "The Welcome Pack makes such a positive statement of intent especially. I have some pretty compelling evaluation stats to prove it's been a winner. Thank you for your help with this – it was a pleasure to work with you on this project. Fingers crossed we get the opportunity to work together again."
Elaine Henderson
Harwoods Consultant
Develop
The design was clean, simple and functional and was an immediate hit with the new starters and line managers. A lot of focus went into the content of these on-boarding materials, in order to make these as effective as possible whilst giving a lot of information in order to make staff feel as comfortable, engaged and as well-informed as possible. Layout is also a huge factor and a lot of planning went into deciding the best way forward.
Deliver
Working with Harwoods Group on this project was an absolute pleasure and we are pleased to see that it has brought results; retention rates went up 5% in the first year of the Induction Journey!
If you're looking for additional creative assets, get in touch and see how we could help!
Let's have a chat…
"*" indicates required fields