"We've been working with Silverback for several years now. We asked them to give the brand a bit of a refresh, particularly focusing on the franchise side of the business to help us grow. They did a photoshoot and we were really chuffed with the results that perfectly capture our people; our collateral now looks professional and friendly. Thanks Silverback!" #Troopwork
Mike Harris
Owner, Oven Rescue Group
Discover
Oven Rescue is a successful, independently run oven cleaning franchise that started in West Sussex but now has a presence throughout the UK and continues to grow. The Oven Rescue brand has to work in two ways – firstly, as an attractive franchise for potential franchisers and secondly, as a great local business to hire for your oven clean. It's a great model business template for an individual or team to make their own. Using the foundations, training and mentored support, the franchise can flourish in their designated area.
The Oven Rescue brand also needed to grow and promote itself to attract more potential franchises by conveying the unique USP of joining this franchise. Oven Rescue was looking for advice on how best to enhance the brand and promote the company to customers and prospective franchisees. The industry is competitive and in order to stand out amongst the competition, the brand needed to be eye-catching, memorable and professional and the marketing material needs consistency across the franchise areas to strengthen the brand as a whole.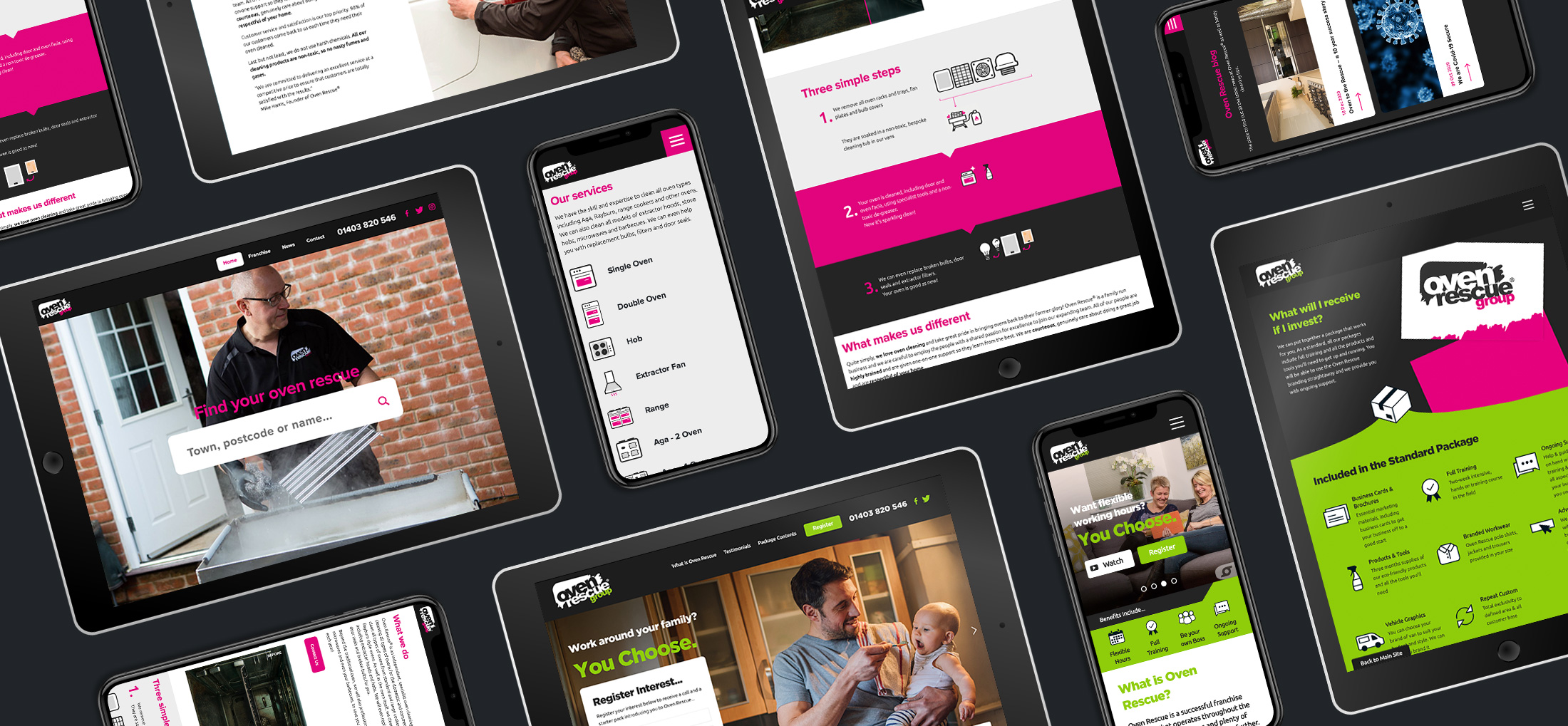 Design
The Oven Rescue identity was well established and distinctive but needed a bit of a refresh. We recommended that we develop a specific franchise identity using different colours so that it was differentiated from the customer comms. We wrote and designed a promotional booklet aimed at potential franchisees. The owner of the company, Mike Harris, is hands-on with the business, which makes it different to some of  their competitors. We thought it was really important that this came across in the booklet, so we organised a photoshoot with Mike and some of his staff to get across that human aspect of the company. The tone of voice used throughout the booklet is friendly, simple and informative. 
This was then translated to a franchisee website adopting the same identity and photography. Quotes from staff are used to give a sense of what it's like to work for Oven Rescue. Bespoke iconography also helps the website feel friendly and independent. 
In addition, we shot videos of Mike and the franchisees talking about their experiences and what to expect, which were used on the website and in a social media campaign. We used pay-to-click to target a specific demographic and areas.
Develop
With a fresh new look, Oven Rescue have a more professional and approachable way to sell their services. The social media campaign helped to attract new people to the opportunity and has resulted in new franchisees. Since this initial campaign, we have worked with the company on PPC and re-marketing to target those thinking about starting their own franchise business. In order to allow the individual franchises the ability to run their areas their way, a new multi-site website was commissioned with CMS integration. Each franchise can now update their own pages, create tailored offers, upload pictures, testimonials and even run SEO campaigns to increase leads in their areas. Since the site went live, we have been working on the franchise website to improve rankings and increase franchise enquiries.
Deliver
Things are looking promising for the company with new franchises popping up throughout the UK. If this sounds like an appealing business for you to run in your area, please get in touch with Oven Rescue to find out more. We are pleased to be a part of this success and increased recognition!
If you're looking for help revitalising your brand identity, get in touch and see how we could help! 👇👇
Let's have a chat…
"*" indicates required fields