"I have worked with the Troop at Silverback over the course of the last 12 months and in that time, they have done some excellent work for us. They produced a comprehensive and very thorough set of Brand Guidelines for us for the first time as well as doing significant work on our website and producing an excellent investment pitch-book too. I would have no hesitation in recommending their services and work, in fact I am delighted to do so." #Troopwork
Joe Sillett
Co-Founder & CEO
Discovery
The Funky Appliance Company was established in 2016 when founders Joe and Sadie recognised a gap in the market for a more 'funky' designed iron. Since then, the company has grown rapidly and as it's gone through successful investment rounds, has developed its range of appliances – all with a funky twist. As the company matured so did the need for its branding to keep up with the company's ambitions; it's at that point Funky approached Silverback® to help. The Funky Appliance Company had some great elements to their branding but things were inconsistent across all touch-points. We worked with the client to refine and refresh their brand strategy and visual identity.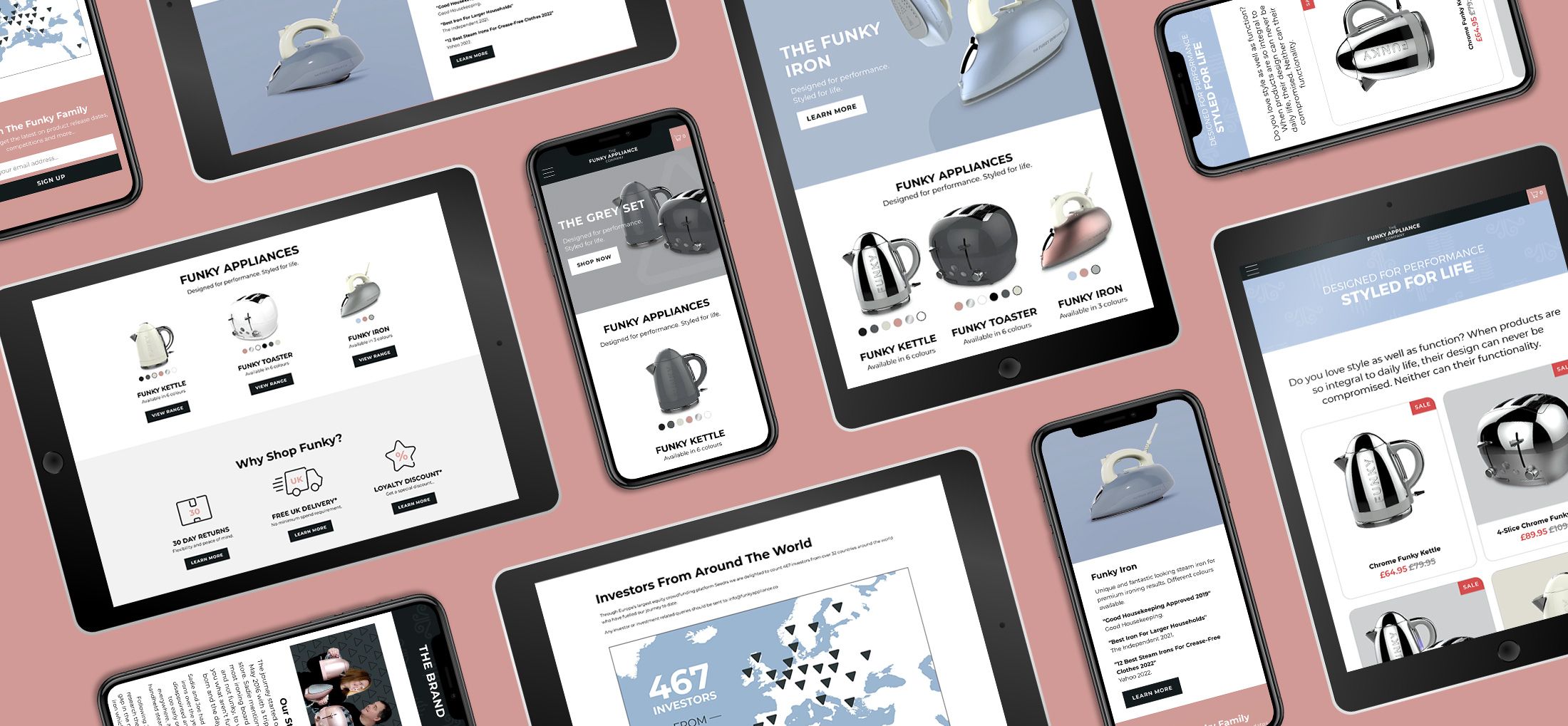 Design
To help support the next round of investor funding, we updated the Shopify website with a new identity and messaging to reflect the brand. We also worked on refining the colour palette, developed iconography and created super slick brand guidelines that ensured they would remain on-brand. We also improved the user journey with the use of iconography and animated gifs, as well as videos showcasing the products in order to engage the users, while simultaneously improving the mobile experience. The result was a much more engaging and user-friendly website with a higher conversion rate and an uplift in sales.
Develop
To help gain further success in funding rounds, we were tasked with developing the investor deck to support the company as it continues its growth and exciting expansion into the global market. This involved adding additional accent colours and evolving the brand fonts to make them more playful, along with further developing iconography and photography to make everything more own-able. Overall, the result was very well-received and truly reflected the brand's purpose and messaging.
Deliver
We are proud to be part of Funky's journey as this breakout British brand goes from strength to strength. We look forward to helping the company build its brand as it embarks on its latest chapter to take over the world.
If you're looking for help creating a modern, eye-catching visual identity for your brand, get in touch and see how we can help!